No Sun, No Problem!
Height of bad luck : After weeks of heat, a rainy vacation! However, it's not a little rain that will stop you from having the best family holiday possible: we must now find a way to make sure everyone has fun!
If you're going to get wet, might as well enjoy it! Did you know that Parc Aquatique Saint-Sauveur is open even if it rains? As long as the Weather network doesn't announce thunderstorms, the park is ready to welcome you! Your personal items can be safely stored in a locker while you enjoy the many activities. Also, cloudy days scare away a lot of customers, which means you can go down the Blizzard for the 9th time without too much wait 😉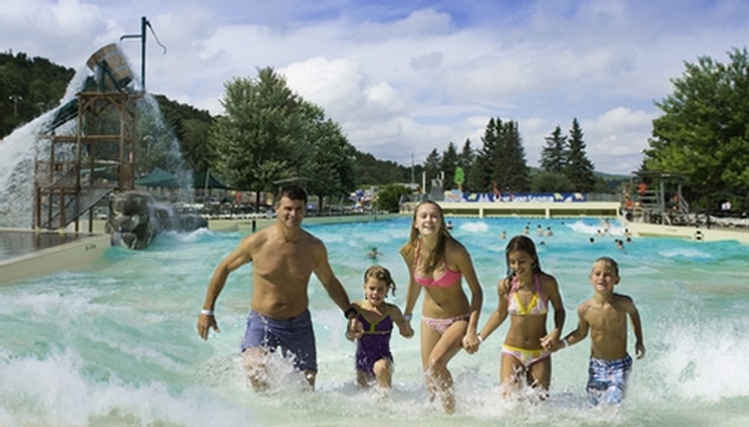 Your group is more on the sporty side? It's not a few showers that will prevent you from cycling a few kilometers of the 232 km composing the Le P'tit Train du Nord bike path in the heart of the Laurentians. From Bois-des-Filion to Mont-Laurier, breathtaking scenery will have you doing a few picture stops to share your exploits on Facebook or Instagram 🙂
Don't want to get soaked outside? Although the Laurentians are filled with outdoor adventures, there are many indoor activities to entertain the entire gang. Introduce the little ones to golf with a virtual game at Bistro Golf, exhaust them at the Megamaze center or the indoor pool! You can even bring out their creative side at Billes & Cie.
How to end this busy day? The Cinema Pine in the heart of Sainte-Adèle or one of the many summer theaters can end the evening in style! Relaxia Spa, with its flexible schedule, offers a wide range of treatments for the whole family. Massage, pedicure, facial: all these options are suitable for both children and adults! Finally, our complete restaurant, L'Ambroisie, offers a hearty and varied table d'hôte, while our Bistro Bar St-Moritz allows you to eat a bite in a relaxed atmosphere!